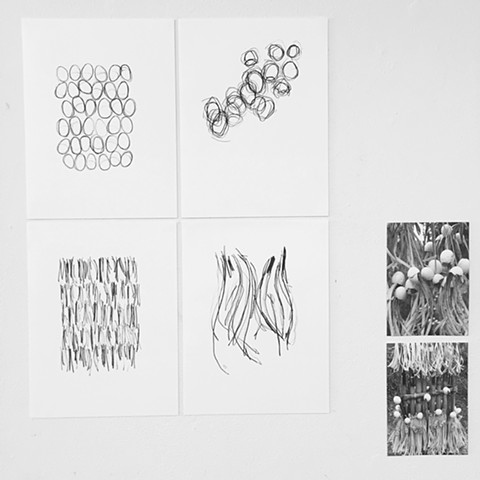 The language of eggshells and bamboo
Charcoal on paper
4 drawings: 9" x 12" | 2 photos: 5" x 7"
July 2016
We had traveled to a very remote region in Arunachal Pradesh in northeast India, where the Apatani ethnic tribe still live and their cultural
and rural heritage still thrives.
I became fascinated by the variety of handmade shrines in front of homes, along trails, and in communal spaces, as part of their shamanic indigenous religion.
Sculptures woven of bamboo strips in dangling curls
Small baskets holding plucked chicken feathers
Cracked eggshells studded as ornaments
Speaking to the spirit world in a language seen
but not known…
Much of my work is an investigation of the line and its expression, often in a language of dynamic mark making. Curious of the 'language of eggshells and bamboo', I was inspired to translate nature's patterns, movement and structure, creating my
own visual language seen.
It had been about a year since I last did any art, caught up in a busy stressful life, with the ache of not expressing, not creating increasingly felt. Being invited to "Cathartic: art as restorative practice" allowed me to find my creative expression again,
and to begin again….
---
"Cathartic: art as restorative practice"
VCUArts Depot Gallery
Select Group Show
Richmond, VA
July 20-29, 2016